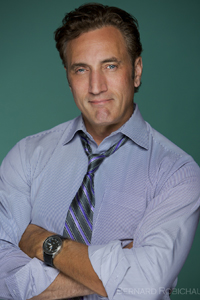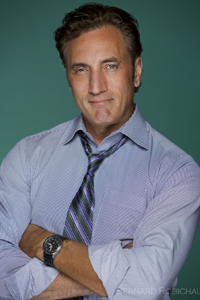 RESUME
BIOGRAPHY
Bernard Robichaud (Bernie) : ( ACTRA, SAG, SAG Eligible, WGA )
Boston-born, Canadian-based, actor, writer and comic, Bernard Robichaud, known to fans worldwide as Cyrus, the gun toting, drug dealing nemesis from the hit television series Trailer Park Boys, started his life in the spotlight as a sought after model. That is, until the day he crossed paths with a Toronto talent agent, who insisted he missed his calling and should try his hand at acting. With that advice in mind, Bernard enrolled in the Theatre Arts program at Dalhousie University and later honed his skills under the private tutelage of esteemed vocal coach Dorothy Ward, and later under the wings of award winning director Tom Kerr at the prestigious Neptune Theatre.
Believe it or not, this athletic man who grew up playing hockey and basketball and today is an avid golfer was hired to voice the characters of both Robert and Becky in the CBC radio drama In Becky's Name. Governor General Award winning playwright and author, Kent Stetson, took the liberty of contacting ACTRA on Bernard's behalf, stating that anyone who could play a man and women on radio in their first performance deserved to be given their professional status…and he was, and he hasn't looked back.
His uncanny talent of being able to transform himself into a rough and tumble lowlife to a ruggedly handsome good guy has garnered Bernard a variety of most interesting roles over his career including performing alongside such Hollywood icons as James Caan and Kathy Bates. Most recently he was seen in Blue Seduction co-starring Billy Zane and Estella Warren, and American Sunset, co-staring with his friend, the late Corey Haim. Bernard also has a recurring role as Kirk in the Showcase TV series, Haven. Fans are looking forward to catching him as Cyrus, once again next year in Trailer Park Boys 3.
Currently, Bernard is writing a screenplay Kitchen Sports, an adaptation of his successful1995 play. Also, he's penned A Woman Scorned, a screenplay feature thriller, and has a new sitcom in development, The Adventures of Black Bart.
When not gracing the small or large screens, Bernard tours North America with his standup comedy act, Who Needs Grade10? I'm a Public Speecher! The comedy act is a portrayal of an uneducated convict who Bernard knows all too well after 10 years on Trailer Park Boys. Bernard's unique stories of crime, sex, drugs and very little rock and roll…have his audiences bustin' a gut!

ACTOR VIDEO REEL
Coming soon.

HEAD SHOTS